We have more than 25 years experience in hand crafting replica copper whisky stills and accessories of exceptional quality. 
We are a family run business started in 2002 with over 35 years of working with copper, these hand-crafted items make beautiful gifts for whisky aficionados.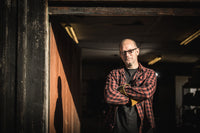 Meet the Maker
Andrew Scott started Highland Spirit in 2002. Utilising his skills and experience from Forsyth's coppersmiths, in a number of roles which included manufacturing and sales of Whisky stills, Andrew established his own business, making replica miniature whisky stills from the same raw materials and age old welding, brazing and riveting techniques.
LEARN MORE
Workshop blurb
Highland Spirit is based in the beautiful region of Speyside in the north-east of Scotland, famous for producing some of the finest Scotch Whiskies in the world.